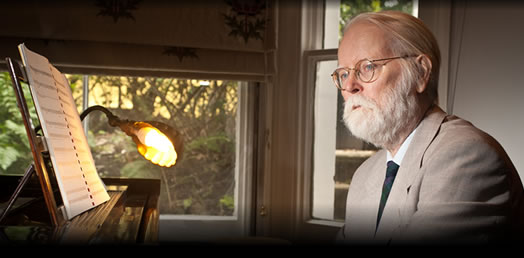 Composer, Choirmaster, Conductor.
John Baird has been a classical composer, conductor and teacher all his working life. He writes music for people who want to sing or listen to modern music full of memorable tunes with character.
The emotional impact of his music is phenomenal - the hypnotic melodies and uplifting harmonies touch the listener deeply. Choirs love singing his music; it is aimed at people who enjoy traditional classical harmonies with an up-to-date feel. Concertgoers relive the melodies long after they leave; the themes and melodies stay with the listener.
John Baird loves to conduct the work of the "Great Composers". He enjoys playing with and re-working these pieces for chorus and smaller amateur orchestras as well as untertaking original compositions. He has a great passion for writing and performing great music, whether secular or church music, choral, operatic or instrumental. His melodies and harmonies are simple and effective, often minimalist or fugal in form with occasional flashes of humour and glimpses of his Scots roots; the realisation of these is exciting for audiences and performers alike.
John is the conductor and composer-in-residence of Medici Choir, a Central London-based amateur choir that performs a mix of traditional choral works, new arrangements of well-loved anthems and popular songs.

NEWS
Sing, Choirs!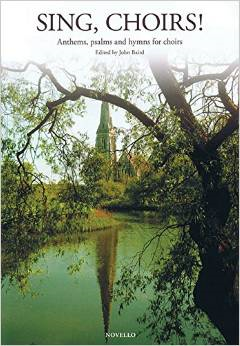 "Sing, Choirs! is a library in miniature."
It contains many of the Christian church's popular traditional anthems, including at least one example that will be suitable for each of the major services of the year.

Read more or BUY ONLINE>
Date: 05/03/2015 | Posted by Caroline
________________________________


When I do count the clock that tells the time...
A new arrangement of John's Sonnet, based on the Shakespeare Sonnet number 12, will be performed in July to mark 400 years since the death of Shakespeare.
More details to follow.
Date: 06/06/2016 | Posted by Anita

________________________________


Sing, Choirs! with the Brandenburg Singers and Medici Choir
This month the Brandenburg Singers and Medici Choir presented a programme of music old and new, celebrating John Baird's collection of anthems, psalms and hymns for choirs, recently published by Novello.
Click here to read more
Date: 28/04/2015 | Posted by Anita

________________________________


Medici Choir Commission
To celebrate its Diamond Jubilee, Medici Choir commissioned a new work from John - Incarnatus- first performed at St.Sepulchre-without-Newgate in December 2014.


Date: 20/12/2014 | Posted by Anita
The Return of Mouse and Mole
John has written the music for a 30 minute animation film 'Mouse and Mole at Christmas Time' starring Alan Bennett, the late Richard Briers and Imelda Staunton.
It was broadcast on Boxing Day 2013 on BBC1.
Click here to read more
Date: 12/12/2013 | Posted by Anita

________________________________


The Flowers of the Forest
An ancient Scots melody forms the basis of this work, first performed in London on St Andrew's Day 2013.
Click here to read more
Date: 25/11/2013 | Posted by Roxane

________________________________


Radix malorum est cupiditas!
This theme (Greed is the root of all evil) of John Baird's opera 'Treble Chance', performed at St.Margaret's Church Westminster Abbey in 2013, is as topical in today's climate as when it was first written in 1974.
Click here to read more
Date: 30/06/2013 | Posted by Caroline

________________________________


Finishing The Unfinished Mass
Spring 2013 saw the performance of John's completion of the Mozart Mass in C Minor. John contemplates why Mozart never completed this great work.
Click here to read more
Date: 17/02/2013 | Posted by Anita

________________________________